July 2022 - Talent Show (Staplehurst)
The TRS Talent Show was just amazing. Young people (YP) from Staplehurst and staff had the best afternoon.  All our YP joined in as did staff - some of the doctors did an instrumental, teachers recorded their acappellas, YP sang, rapped, did gymnastics, and a nurse did some River dancing.  One of the YP hosted the event alongside an Occupational Therapist and our careers officer played the clarinet!
Finally we were fed by a YP; he laid on an incredible buffet of food for everyone.  Halloumi fries, pepperoni and margherita pizzas, lemon and garlic asparagus, sausage rolls and a sauce, salad and cheese strings! He spend all day cooking and made it all dairy free as one of our YP has an allergy.  Just a brilliant brilliant day :)
System.NullReferenceException: Object reference not set to an instance of an object.
   at ASP._Page_app_plugins_documentpicker_documentpicker_cshtml.Execute() in C:\Inetpub\vhosts\trs.kent.sch.uk\httpdocs\app_plugins\documentpicker\documentpicker.cshtml:line 16
   at System.Web.WebPages.WebPageBase.ExecutePageHierarchy()
   at System.Web.Mvc.WebViewPage.ExecutePageHierarchy()
   at System.Web.WebPages.WebPageBase.ExecutePageHierarchy(WebPageContext pageContext, TextWriter writer, WebPageRenderingBase startPage)
   at Umbraco.Web.Mvc.ProfilingView.Render(ViewContext viewContext, TextWriter writer) in D:\a\1\s\src\Umbraco.Web\Mvc\ProfilingView.cs:line 25
   at System.Web.Mvc.Html.PartialExtensions.Partial(HtmlHelper htmlHelper, String partialViewName, Object model, ViewDataDictionary viewData)
   at ASP._Page_Views_Partials_grid_editors_Base_cshtml.Execute() in C:\Inetpub\vhosts\trs.kent.sch.uk\httpdocs\Views\Partials\grid\editors\Base.cshtml:line 20
June 2022 - Year 11 leavers and Ofsted
As you know we were visited!  Thanks for all of your support, our final report should be available hopefully by the end of term or beginning of September.  The pupils and students were a credit to our families and all of this took place during the Year 11 leavers ceremony which was the most amazing event, lots of laughter, tears and food.  Missing year 11 already, have a great summer :) 
May 2022 - Meet the new Headteacher at Leybourne - Freddie!
As you can see Freddie takes his new responsibility extremely seriously, his profile picture as you can see below outlines his intent to keep everyone inline.  
His first job of the day is to greet pupils at the door and ensure they are ready for school, then it's over to the team to educate.  Often at random times of the day he conducts his learning walks and then retreats for a siesta.  Always available for a bit of exercise, bite to eat or a cuddle.  Welcome to the team Freddie!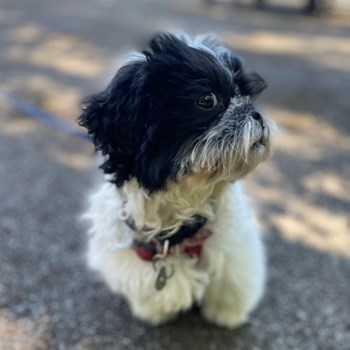 ;