The Rosewood School
ENSURING CONTINUITY OF EDUCATION, THROUGH INCLUSION AND SUPPORT
The immunisation team are visiting Canterbury on Tuesday 14th March and Leybourne on Wednesday 22nd March to give vaccines TdIPV and MenACWY as part of the Immunisation Programme.
They are here for year 9 and any year 10/11 students that have missed the vaccinations at school.
Please complete the child consent form and visit the website for further information regarding these vaccines.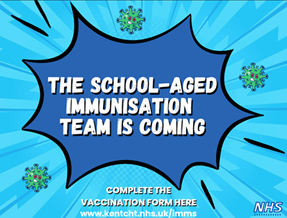 News and Events
There is always something to celebrate at The Rosewood School.  Check in from time to time to see what is happening. Click on View details to find out more.  You can also follow us on social media to stay up to date on our latest news, events and stories.
Check out our twitter and facebook updates to get the latest 'Wake Up Wednesday' guides.  These are vital to look at for those who want to keep up to date on how to keep their children safe online.
Be in the know!  Download 'the' App to stay one step ahead and understand more about online safety risks https://info.nationalonlinesafety.com/mobile-app
Worry box
Click on View details (link below) to drop us a message, and please don't feel that the message has to be serious, if you have a niggling worry about anything at all then please use this facility!  We do check this system daily - Monday to Friday.  This means a member of the safeguarding team can get back to you as soon as we receive a message, so please don't worry we will be in touch soon. During holidays or even outside of school hours (e.g evening or weekends) this system will not be checked.  Therefore it is really important that if you are feeling distressed or you are worried then please contact Shout or Kooth, both resources have been tried and tested by our pupils and they have fed back that they are really helpful.
Shout is great as you can text free on 85258 www.giveusashout.org  They have trained Shout volunteers and are available to help anyone with depression, anxiety, abuse, panic attacks, suicidal thoughts, self-harm, relationship problems and bullying. 
Kooth www.kooth.com is another really popular resource that our students use - Online mental wellbeing community – for Young People
---
;