The Rosewood School
ENSURING CONTINUITY OF EDUCATION, THROUGH INCLUSION AND SUPPORT
We are very pleased to share that following a visit from UNICEF, The Rosewood School has been successfully accredited as a Silver Rights Respecting School! 
Thank you to everyone involved in the accreditation, all staff and pupils made a fantastic representation of our school. Well done!
Congratulations as well to everyone else in the Rosewood school community for all the excellent work that you do which has contributed to this recognition. Achieving this award would not have been possible without you, so thank you!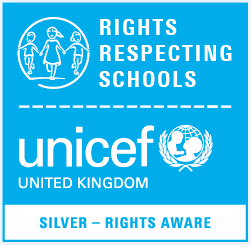 There is always something to celebrate at The Rosewood School.  Check in from time to time to see what is happening. Click on View details to find out more.  You can also follow us on social media to stay up to date on our latest news, events and stories.

Check out our Facebook, Twitter and LinkedIn updates to get the latest 'Wake Up Wednesday' guides.  These are vital to look at for those who want to keep up to date on how to keep their children safe online.
Be in the know!  Download 'the' App to stay one step ahead and understand more about online safety risks https://info.nationalonlinesafety.com/mobile-app
During holidays or even outside of school hours (e.g evening or weekends) this system will not be checked.  Therefore it is really important that if you are feeling distressed or you are worried then please contact Shout or Kooth, both resources have been tried and tested by our pupils and they have fed back that they are really helpful.
If you do not feel that you can keep yourself safe then dial 999
Shout is great as you can text free on 85258 www.giveusashout.org  They have trained Shout volunteers and are available to help anyone with depression, anxiety, abuse, panic attacks, suicidal thoughts, self-harm, relationship problems and bullying. 
Kooth www.kooth.com is another really popular resource that our students use - Online mental wellbeing community – for Young People
---
;